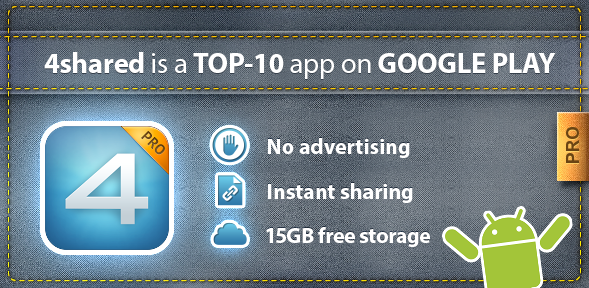 Astonishing news! AD FREE 4shared Pro for Android has become one of the Top-10 most popular entertainment apps on Google Play Store! Today we're going to repeat all secrets about 4shared Pro. 4shared Pro is designed especially for Android fans. Let's have a look why is it so popular and how to become a happy 4shared Pro user.
Ad Free
More and more people nowadays choose apps without boring ads sparkling all the time. Don't waste your time and nerves on this! Better install 4share Pro and enjoy the app without advertisement. Easily work with your content without taking your mind off.
Instant sharing
Share your content with friends. It takes one click to share a file. Your friends will instantly receive the direct link to download the file on 4shared.
Access to millions of files
Waiting for your girlfriend, who's late, at a café for more than forever? Remember you have your Android device and 4shared Pro with you. Listening to your music or tracks of your friends hosted on 4shared, or watching videos will help you not to get bored. Moreover, you can play games or read books on the app. 4shared Pro has user-friendly search within massive 4shared database with an option to instantly add new files to your account. 4shared cares about your time!
15 GB storage for free
With 4shared Pro you're able to use 15GB storage for free. Isn't it awesome? You can host more than 3000 music tracks and listen to them directly from your Android device. If you want to watch your friend's home videos, you can host up to 45 HD videos. You came back from vacation and want to show pics to your friends? Take 15GB of 4shared Pro, and upload more than 500 images and share the photo album with friends. You can, as well, get 4shared Premium account and become the owner of 100GB of storage. You can get Premium only on web.
Isn't it cute? Check out our next post about 4shared PRO. We are going to tell much more about the app and how to use it.
&nbsp
Like this post? Share it!