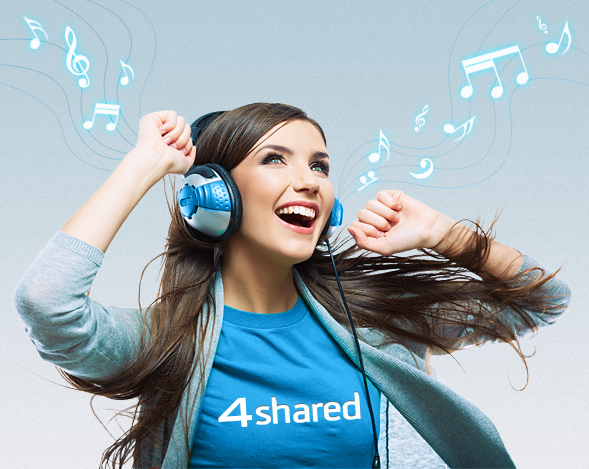 Today,
4shared
unveils the incredible update: check out the possibility to create your own playlists and manage your music files the way you want it. Just upload your awesome tracks to your account and manage them into playlists. Create a playlist according to the style or your mood, and share them with friends. Aren't you astonished yet?
4shared team has been working on creating a special feature for our users. And now, we are ready to present 4shared Playlist to you. Let's have a deep look how to create it and use it. First of all, upload your favorite music tracks to your 4shared account. If you want to listen to the whole folder, just click on the Play icon near the folder:

The Playlist tab appears at the bottom right corner of your screen. Click on the Playlist tab to see the whole playlist.

Managing your playlist
As you can see, there are lots of songs in your account and today is a special day for having a rest and listening to some lounge. But all your songs are mixed in the account and instead of listening to some calm and chilling out tracks, you're listening to desperate rock tracks for your workout. It's no good. There are several ways to manage your playlist:
&#10004 The simplest way to add tracks into the playlist is "selection": drag-and-drop tracks you want to listen from your account into the playlist.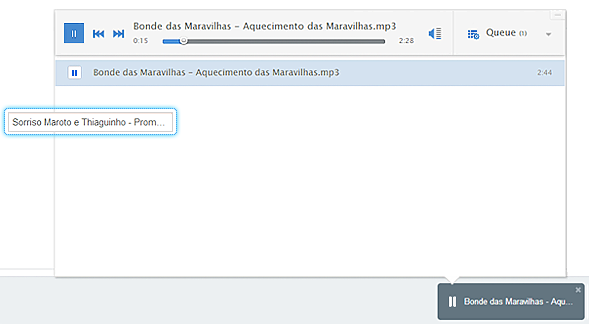 &#10004 Click on "add to queue" icon near another folder, if you want to add to your playlist some more tracks.


&#10004 You can do the same with any song, if you want to add it to your playlist. Click on "add to queue" icon near the track and it will automatically be added to your playlist.


&#10004 You can easily remove files from your list, by clicking on the Cancel icon near the track.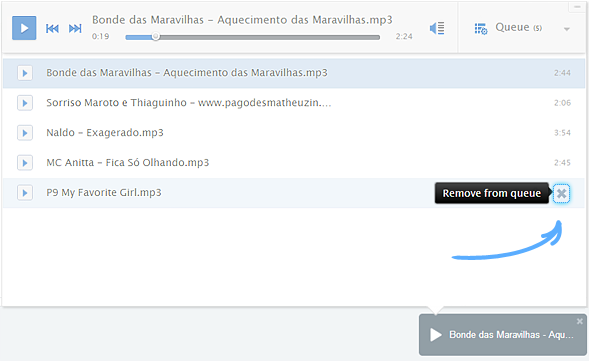 &#10004 …and restore it again, by clicking on the Plus icon: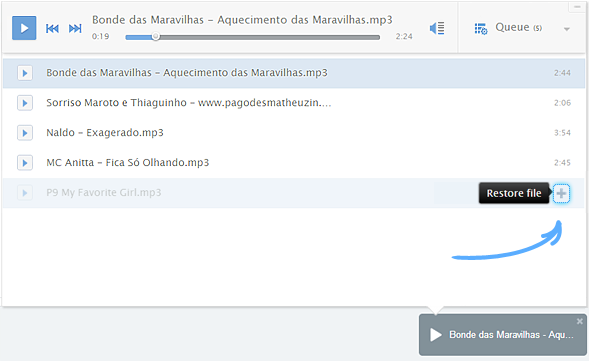 &#10004 There are many useful functions in the playback controls: Rewind, Fast Forward and Play button handling both playback and stopping. You can also use audio volume control for suitable sound.


&#10004 You can show and hide your playlist window by clicking on the playlist tab:


Queue and its usefulness
Click on the "Queue" tab and find out the queue options.
1. Creating new playlists
If you uploaded some awesome tracks to your account and put them into the queue, you can easily create the special playlist:
&#10004 Click on the Queue tab
&#10004 Go to "+Add to"
&#10004 Click on New playlist
&#10004 Tape the name of your playlist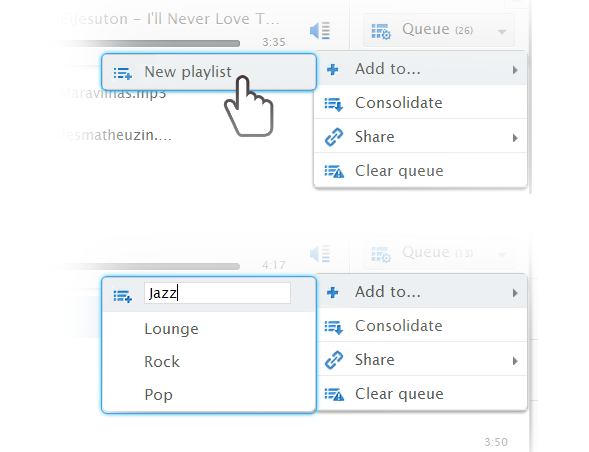 Music tracks, which are in the queue, will be automatically added to your new playlist.


Consequently, the Playlists folder will automatically be created in your 4shared account. Here you can always choose which playlist to listen at the moment.


2. Sharing playlists with friends
Share your playlist with friends by clicking on Share button and then just choose the playlist. As you know, you can:
&#10004 Send the direct download links to your friends
&#10004 Send the playlist via e-mail, FB and within 4shared
&#10004 Embed links into your forum or blog

3. Consolidate
Imagine that your friend has shared an awesome playlist with you. Check the notifications and click on the message you've received:



The playlist will automatically be in the list of your 4shared files. You can add it to your queue and listen to it. But you should remember that if the owner makes any changes in this playlist, it will automatically make the same changes in yours. Use the Consolidate button to add all tracks from the queue to your account. It will help you to avoid the external changes by the owner. Moreover, the tracks in the queue will be automatically replaced by consolidated ones.

How to consolidate tracks:
&#10004 Go to queue options
&#10004 Click on Consolidate button

All new tracks will be added into your account. What's more? You can perform the same thing with the search right from your account. Type the name of music files you are looking for in your account search.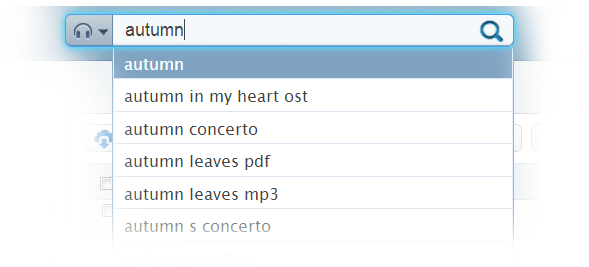 You may add tracks from 4shared search to your queue without downloading or adding them to your account.


If you like them, click on Consolidate button in the queue options as in the instruction above. Those files will be automatically added into your account.
Some more features
&#10004 Clear the queue.
The simplest way to clear the list of songs is to click on Clear queue button and your queue will be empty.

&#10004 You can manage your queue by moving the tracks within the playlist:


&#10004 Download tracks and share them right from the playlist. All you need to do is to click on Download icon near the track:


&#10004 The great benefit of this feature is that you can move tracks to different folders, and change their locations within 4shared account, but your playlists will remain without changes. Isn't it cute?
And that's not it! 4shared team has lots of features and novelties for you. Just stay tuned and follow our next posts to check out everything.
&nbsp
Like this post? Share it!