So you've found all benefits of using 4shared Desktop tool. But how to start it? Let's take a look on first quick steps.

Starting with 4shared Desktop is simple and easy. Start with basics.

1. Download it to your computer , spend 1 minute to install it and then use  your 4shared login and password to access your data.
2. Don't have an account? It's high time to create it.  
Especially if take into account 4shared Desktop gains more and more popularity among users, as program visit counter shows. It's already 47 million visits and the number is growing.
So,  as you entered the system note there are three controls to start with.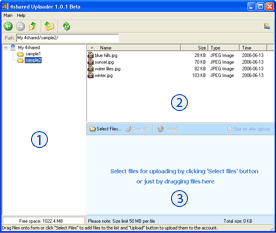 1.       Folder tree (that shows the structure of your data)
2.       List of files and folders (for displaying your folder content)
3.       Uploading and downloading tabs (to manage the data)
Now you can just choose the files you'd like to manage and go ahead!
&nbsp
Like this post? Share it!