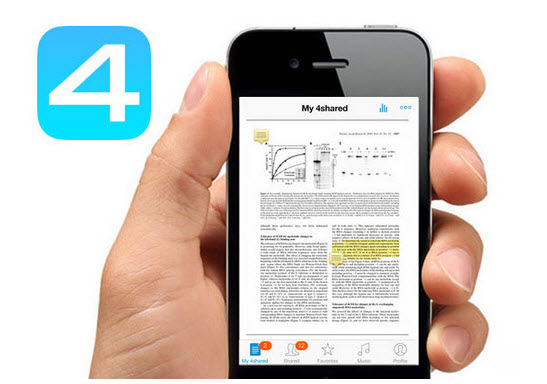 Awesome news, guys! We have added a new feature in the latest version of 4shared Mobile for iOS application – PDF Preview!

The brand-new PDF Preview feature is easy-to-use and implies a set of important benefits for iPhone/iPad users.
To begin with, it is now much easier to read books, documents and other PDF files, stored in your 4shared account – on your iPhone or iPad now. The newest 4shared Mobile for iOS enables you to open and browse any PDF docs directly in the application.
You only need to tap a file to view it.
Moreover, there is no need to scroll down the PDF book or document to the page where you have stopped reading, every time.
Next time you open the PDF file in your 4shared Mobile for iOS, the last viewed page in it will open automatically.
Tip! "Star" PDF files to browse them, even when there is no Internet connection.
More importantly, the app also allows you to read PDF docs from 4shared, found via your mobile browser.
To open a PDF file from 4shared in your 4shared Mobile for iOS app:
1. Open the 4shared PDF search page in your mobile browser.
2. Find a PDF file you need and tap it.
3. Tap the "Open in the app" button at the opened file page.
4. The PDF file will open for browsing in your 4shared Mobile for iOS app.
Tip! Tap "Add to my account" in your 4shared Mobile to save the PDF file to your 4shared account for further browsing.
Install the new 4shared Mobile for iOS from App Store now and try out its beneficial features yourself!

&nbsp
Like this post? Share it!