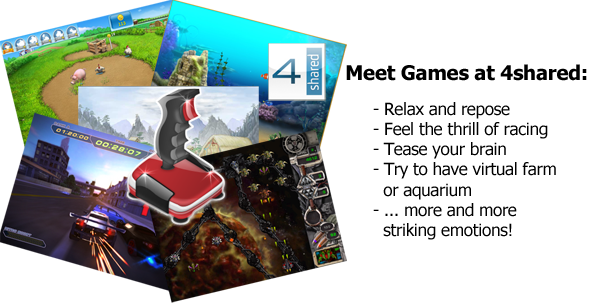 Dear friends!
We are happy to introduce our recent section "Games" at 4shared.com. Those games for downloading of which you have to pay at most casual games services, at 4shared are available absolutely for free!!!
Meet the most popular examples of casual games which you can find at 4shared.

So, here are a few items which were the most popular among our users during the last time:
Farm Frenzy 2
Genre: Arcade

This game recalls Old Macdonald. If you have always dreamt to live in a village and have your own farm, this game is specially designed for you. With amusing 3D-graphics, knee-slapping animals and skittish music your farm will always bring you in good mood. This game has rather low requirements to your computer (256 Mb RAM, 16 Mb of video memory), so you can easily install it without going through the hassle of your system opportunities
Fishdom
Genre: Puzzle

This is a lovely puzzle with different sea creatures and plants which you have to match in a row to get more money. Then buy different fishes and ornament to your aquarium. Get accessories to make the conditions of your sea friends perfect. Fit out your aquarium and relax while taking care of it. This game requires 256 Mb of RAM and processor 1Ghz or better.
Hide and Secret
Genre: Hidden object game

This game recalls somehow Indiana Jones series. Two heroes are looking up for hidden treasures. They are flipping through the map for the necessary place of destination then solve intricate tasks while collecting hidden things. Now how do you feel on their places? Just try! Besides, creative designers work much to produce such amazing graphics. Computer requirements are rather low – processor 800 Mhz or better, 128 Mb RAM.
Police Supers Cars Racing
Genre: Racing

Choose the car and type of game modes then patrol through the route as fast as you can. Control urban traffic while bouncing along the city. This is a high-speed game. Complete 16 levels of this game and become the real guard of the city roads. Computer requirements: processor 1 Ghz or better, 256 Mb RAM, 64 Mb of video memory.
Mah Jong Quest
Genre: Mah Jong

Choose one puzzle you like from the plenty of options and then take pleasure of it. Feel the atmosphere of the journey through 12 lands of the ancient Empire of Japan. Help to bring peace to some of them while solving those puzzles. Enjoy great Japanese music and entertain while teasing your brain for hours on end. Requirements of this game for the computer are really low – 32 Mb RAM, 16 Mb o video memory.
Inca Ball
Genre: Arcade
Let's dive into the ancient times of the wise Inca civilization and try to get their artifacts. The number of artifacts expands throughout the game levels and the more artifacts you have the higher level you can reach (there are 60 levels in this game). Exciting visuals make your game spectacular and cheerful for your mind. Moreover, you are able to win the price at the end of the game. Requirements for the computer are at least 600 Mhz for the processor, 128 Mb RAM, 60 Mb of hard-drive space, soundcard.
Star Defender 2
Genre: Action game

You have to fight against 30 different enemy units defending your space. You can take part in 9 large missions and compete through 100 thrilling levels with great music. This game's requirements from your computer include: processor at least 500 Mhz, 128 Mb RAM, 32 Mb of video memory.
Download this games and plenty of others at 4shared and feel striking emotions with action games, deftly solve Japanese puzzles and relax while collecting lovely creatures to your aquarium or farm!
>>>Don't hesitate, download now!<<<
&nbsp
Like this post? Share it!