Do you want extra security for your folders? Or maybe you're preparing a birthday photo-surprise for one of your friends who often visits your 4shared account? Or you want to upload super important documents and don't want everybody see them? 4shared provides its users with a convenient solution to all these tasks. Put password on your special folder.

Possibility to put passwords on some of the folders is a great advantage available to 4shared users. Simplicity of this action's accomplishment is also amazing. Let' see how to do that.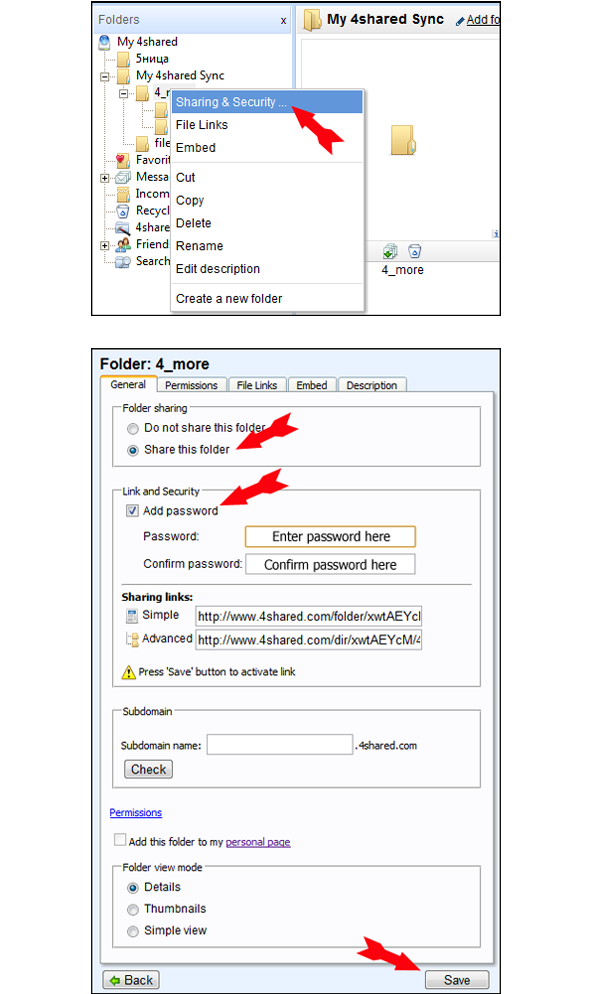 4shared recommends you to put just strong and difficult passwords to reach the highest level of security for your folders. 4shared provides its users with ultimate security, however if you store really important or maybe secret information be careful with it. Social engineering is a thing which even 4shared can't protect you from.
But here are some options how to use the advantage of folder passwords for less secret purposes:
1. Work on a mutual project
With 4shared you can set different access levels to your folders, so that, for example, to work with your friends on a mutual project. Or… You can put password on that one specific folder and just those of your friends who know it will be able to get to its contents. This reason to passwords on the folders is one of the most spread. However, there are some users who work on mutual projects without putting any passwords on those special project folders.
2. Use 4shared promotion, but leave a bit room for yourself
If you have a customized account at 4shared and use it just for promotion, you can leave some space for yourself or for new projects which you don't want to show exactly now! This is the second most spread reason of putting passwords on the folders.
3. Need some secure place for your ideas?!
Hmm… If you are a totally creative person and ideas appear in your head like greased lightning, but their implementation needs much time, password protected folder at 4shared is exactly what you need! With 4shared Sync app, your account is accessible to you 24/7. So, keep your creativity protected at 4shared!
What would be your reasons to put a password on the folder?
&nbsp
Like this post? Share it!