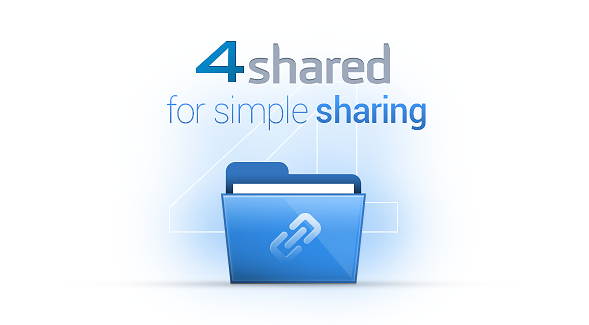 4shared Team has been working hard these days to enhance the process of sharing files between users. Welcome brand-new interface of sharing properties and share your content with friends, because now it's even more convenient and easier!
As you know each folder on 4shared has its specific icon and status. Let's have a deep look how to recognize those icons: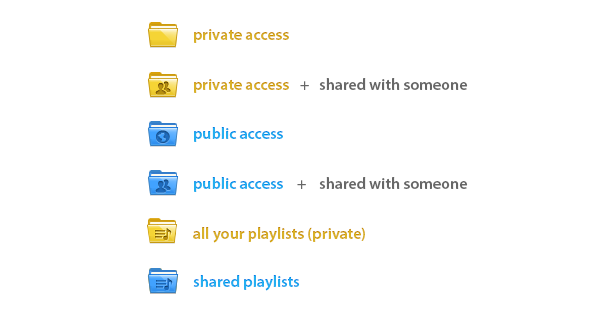 And, as you might have noticed, you could change the status of your folder to public, private and "invited members". From now on, 4shared is even more user-friendly. That's why there're only two active statuses of folders: Public Access and Private Access.

PROPERTIES OF PUBLIC ACCESS
Creating a new folder, you should know that it'll have private access. If you want to share it with 4shared users and make it accessible for everyone set the Public Access:
1. Right-click on the folder
2. Click Share, until the pop-up menu appears
3. Choose Public Access, as on the screen below


4. Press Save button to save the changes


Now every 4shared user has the access to your folder. But you can perform even more actions with the folder: set the access permissions, set password and subdomain.
If you want your friends to edit the content of your folder:
1. Click on the arrow near View only
2. Choose Upload&Edit
3. Click Save


Now your friends can upload some more files to the folder, as well as delete, edit and just view.
If there is no need to give permissions to edit the folder, just choose View only, so that no one except you can manage your folder. And don't forget to press Save.
More sharing options
It's very easy to set the password on the folder, set a unique subdomain, get links to it and codes for your forum or blog. Press More sharing options:


Set subdomain & password
As you can see from the pop-up menu, you can easily set a subdomain you like and share the link with your friends. All you need to do is:
1. Press More sharing options in the Share pop-up menu
2. Run a pop-up menu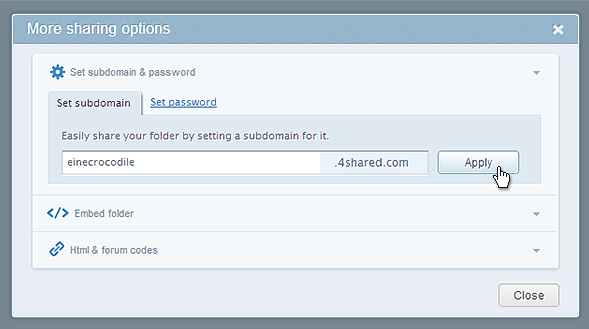 How to change the subdomain
Make your folder unique and special by changing the subdomain. Follow these simple steps:
1. Press Change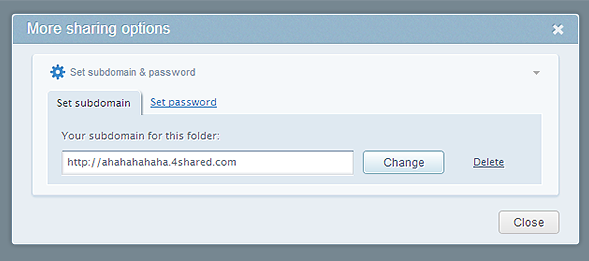 2. Enter the new subdomain
3. Click Apply
Isn't it cool?! Check out this one: http://pandared.4shared.com
How to set a password
You can easily set a password to the folder.
1. Click on Set password tab
2. Enter the password
3. Click Apply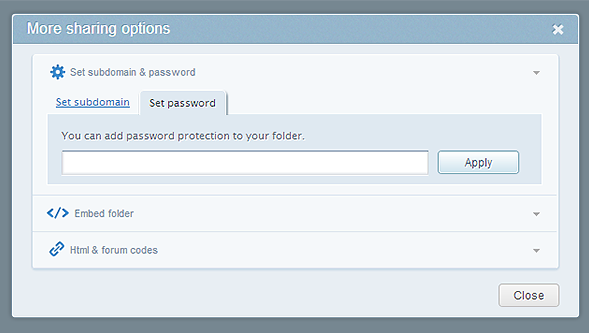 You can share the password with people you need. They'll only have to enter the password before viewing the folder.

Embed Folder
Press the next tab "Embed folder" to embed any folder into you blog. Just copy the code and paste into your blog.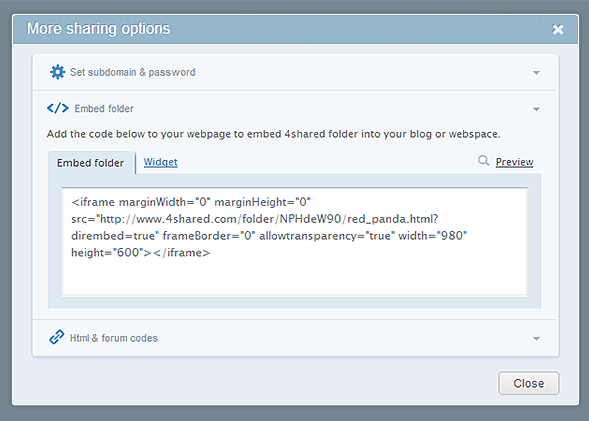 What's more? You can share the widget to your folder on 4shared so that everybody can preview your files and maybe download them!
1. Choose Widget tab to get the link.
2. Put this link into your blog so that everyone could have the access to the stuff you want to share.
Html & forum codes
It's also possible get Html and forum codes to put them into your blog. Press "Html&forum codes" tab to get codes for you folder.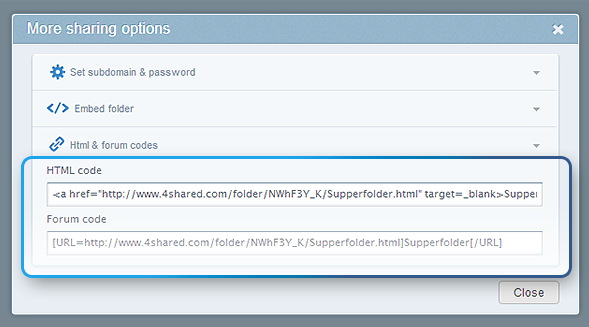 PROPERTIES OF PRIVATE ACCESS
Private Access means that nobody but you has the access to the folder. You can set a unique subdomain, and set password. But it's also possible to share it with friends without setting a public access. It means that you can share the folder with private access only with certain members.
1. Click on the folder with private access
2. Click Share button and run the pop-up menu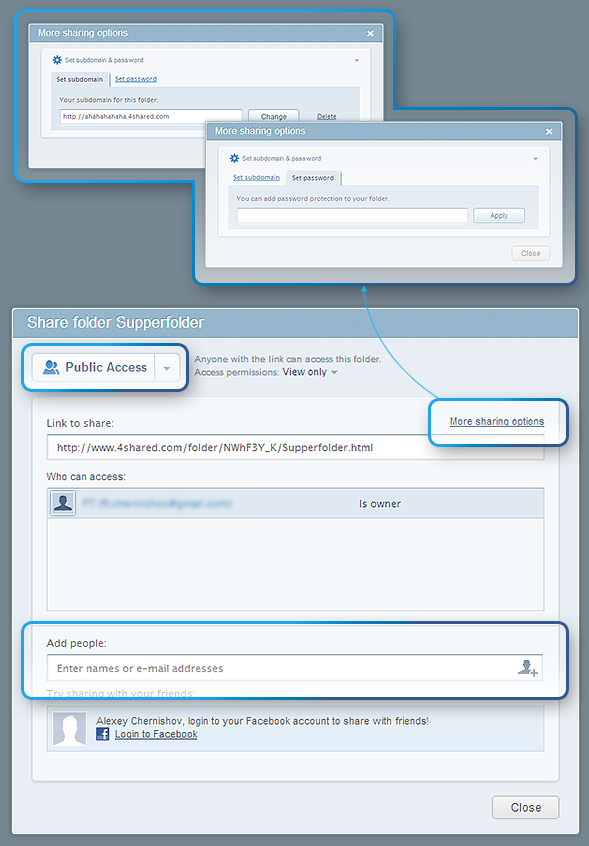 As you can see, the Private Access provides:
&#10004 More sharing options;
You can easily set the subdomain and set a password to your folder
&#10004 Add people you want to share your folder with;
All you have to do is to enter names or e-mail addresses on the appropriate field.



Or click on Add people icon and choose people you want to give the access to the folder.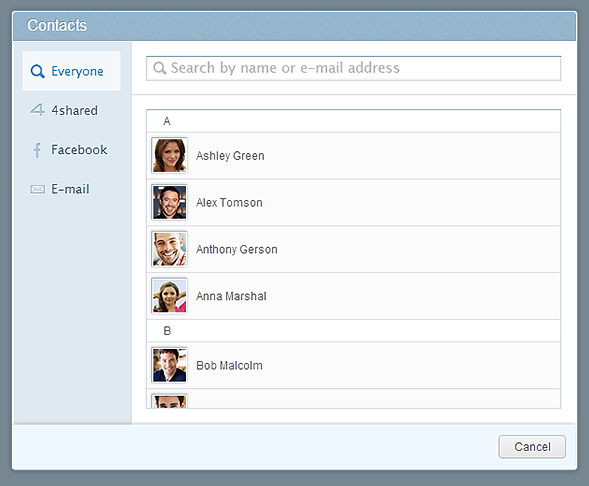 That's it! Welcome renewed interface and check it out in your account. Enjoy sharing your content with the whole world with 4shared. And stay tuned, because 4shared has a lot of great surprises for you this summer!
&nbsp
Like this post? Share it!