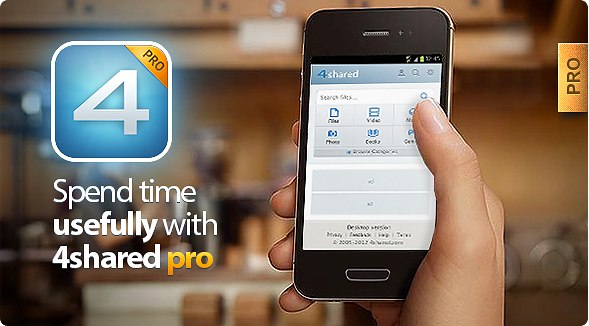 Imagine the situation: you are intelligent and busy man, but right at the moment you're getting bored at the café waiting for your sweetheart for more than hour. The message from her with a promise to be in 2 minutes makes you decide to stay in and wait a little bit more.
Don't waste your time, man! Download
4shared PRO
on your Android device. Be sure, you won't get bored! Turn the time of waiting into incredibly interesting journey into 4shared world.
The first pleasant thing is that you can always manage your 4shared account via your Android device wherever you have an access to the Internet with the help of 4shared Pro. It allows you to have all your files at hand anytime. Remember that 4shared offers you 15GB for free, but if you need more, you can buy Premium and get 100GB !
Firstly, let's have a look how to work with 4shared Pro.
How to upload files to 4shared Pro
So, waiting for an hour is not a problem now, just log in and read maybe Hemingway. After reaching your account you can easily manage your 4shared files. First upload some interesting stuff to your 4shared PRO:
1. Choose a folder, where you want to upload a file;
2. Press the drop-down menu icon near the folder;
3. Click Upload button;
4. Choose a file from Internal Storage of your device: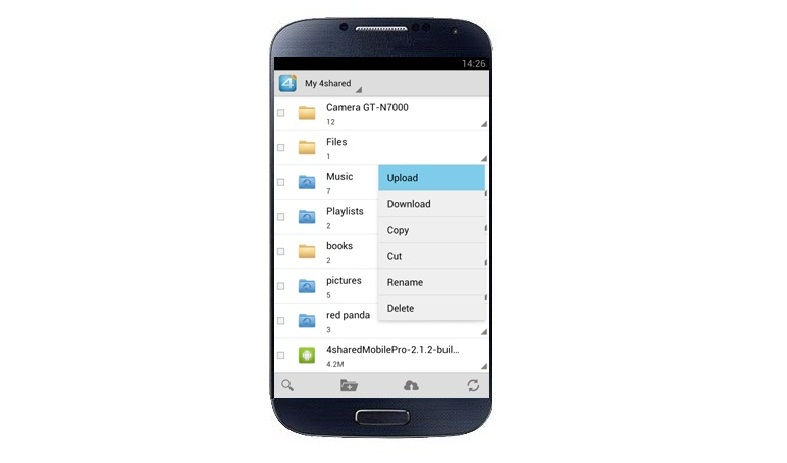 How to cancel the upload
If you changed your mind you can easily cancel the upload:
1. Press the drop-down menu icon near the folder, while uploading;
2. Tap Cancel Upload button: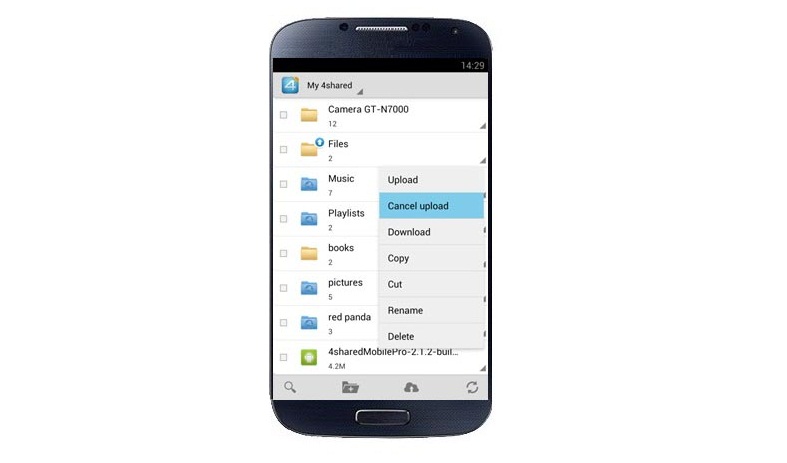 How to download files and folders

You can, as well, download files and folders. All you need to do is:
1. Long press on the folder;
2. Tap the download icon at the Split Action Bar: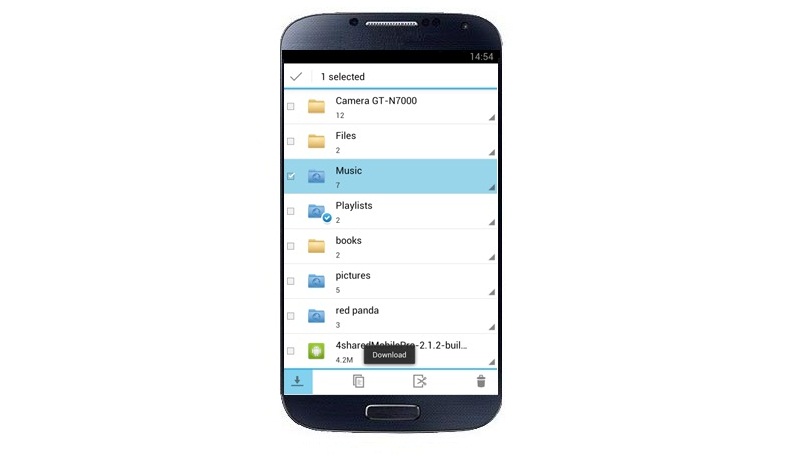 There's also another way to download a folder or file:
1. Press the drop-down menu icon near the folder of file;
2. Tap Download button.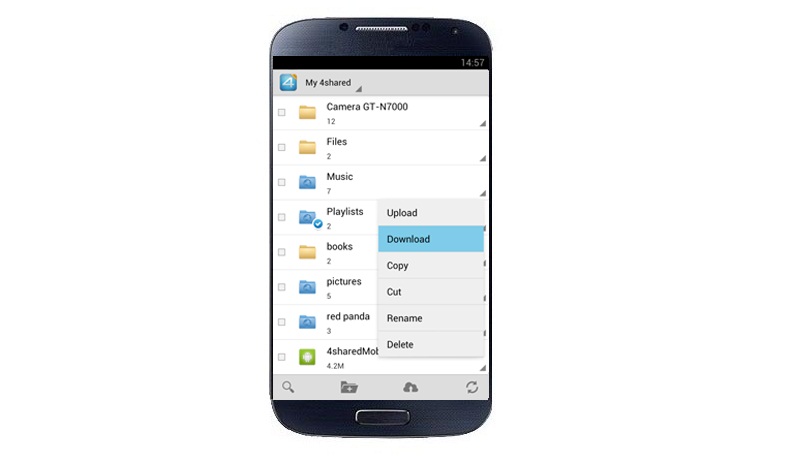 The downloaded files and folders will be marked with appropriate icon in your account: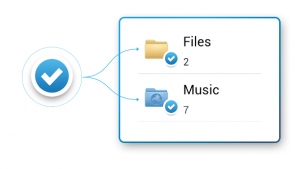 You'll find all the downloaded files and folders in 4SHARED.COM folder on you sdcard.
How to search for interesting stuff
Still sitting at the restaurant table and drinking free water?! Order some beer and goof off a little bit. You can search for pictures, videos, books, and music. Think of what is the most interesting thing for you now and use the public search:
1. Tap the Search icon at the bottom bar;
2. Enter the key word;
3. Tap the Search icon again;
4. Choose a file from search result list: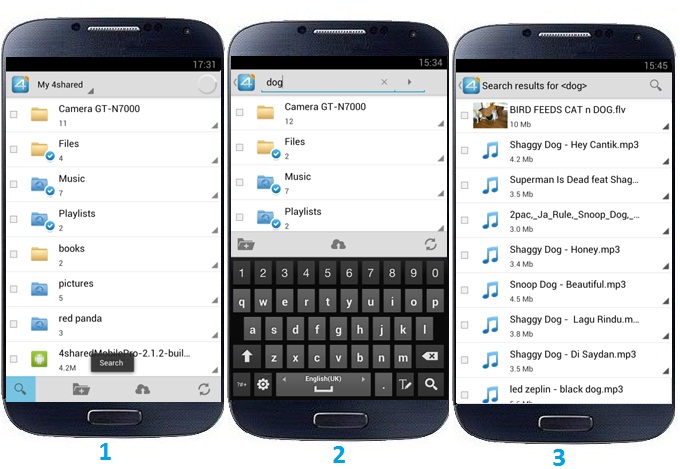 Liked that hilarious video? Add it to your account:
1. Press the drop-down menu icon near the file;
2. Tap Add to my account button;
3. Choose the folder, where to add the file;
4. Tap Ok to confirm.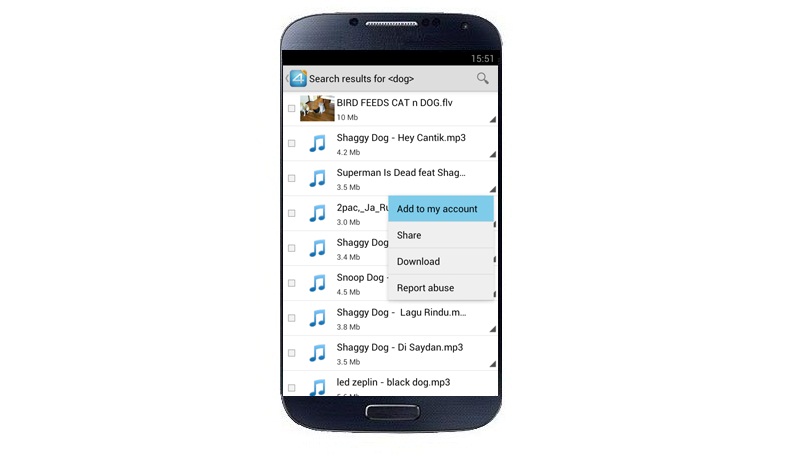 Watch videos and preview photos without downloading
With 4shared PRO it's even possible to preview videos and photos without downloading it.
1. Press the video file or image;
2. Choose the program to view the video: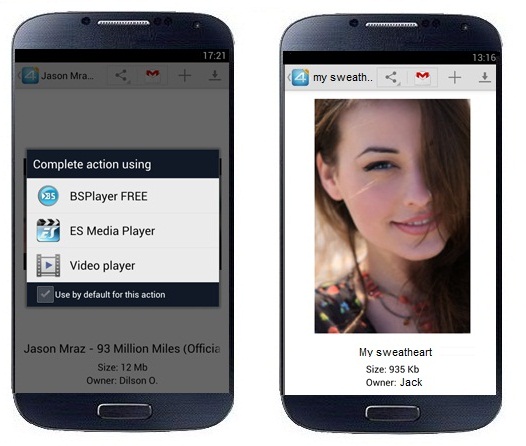 While preview, you can:
&#10004 share the file
&#10004 send by e-mail
&#10004 add to your account
&#10004 and download to your device.
Report the abuse
Of course, you can write something angry to us. Just press the drop-down menu icon near the file and tap Report abuse. 🙂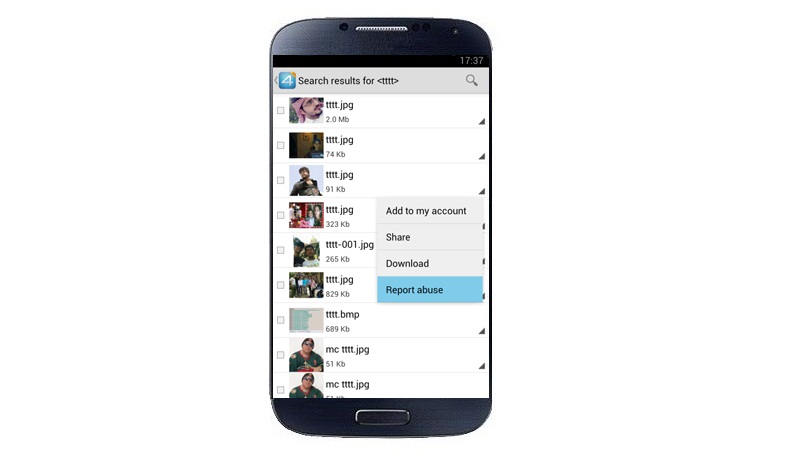 You should also know that you can manage your folders and files. All you have to do is to tap the drop-down menu icon near a file/folder and choose the appropriate action.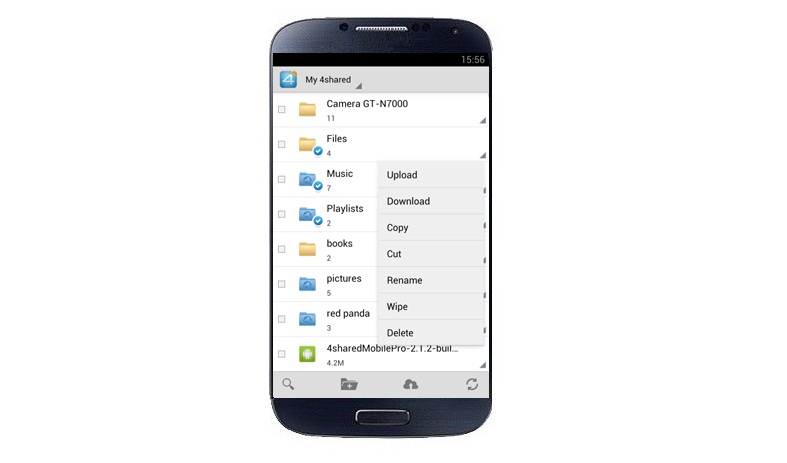 If you long press on the file or folder, the Split Action bar appears. It's really helpful when you want to manage several files/folders: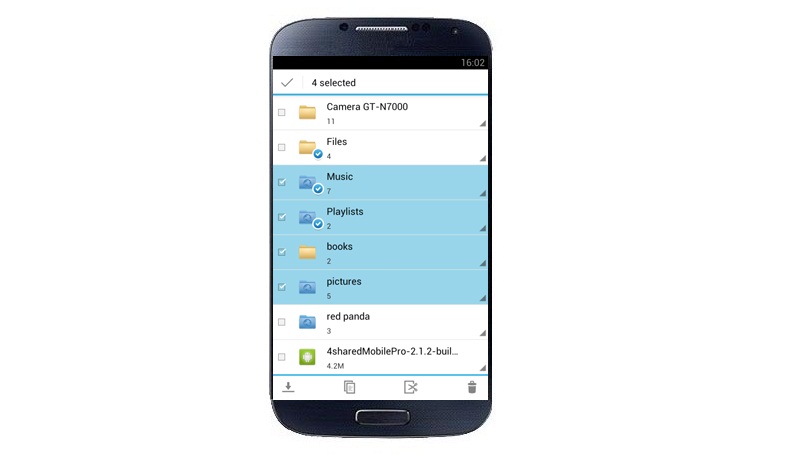 Ohh, look! Isn't your sweatheart coming to your date? It's time to log out:
1. Tap the Menu button on your Android device
2. Tap Settings
3. Tap Remove device from 4shared
4. Press Remove to confirm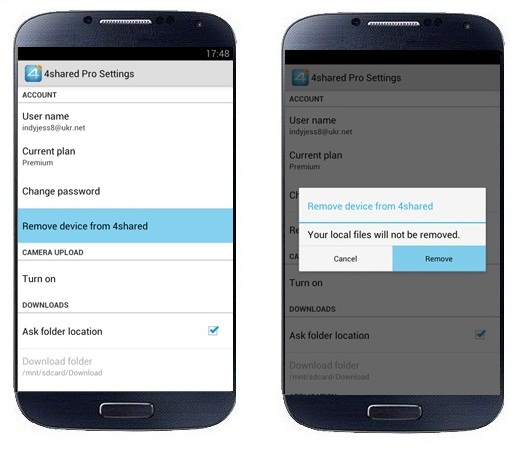 So, now let's just take a little rest till the next post. Stay tuned, because in the near future we'll tell you more about search options and extra features.
&nbsp
Like this post? Share it!