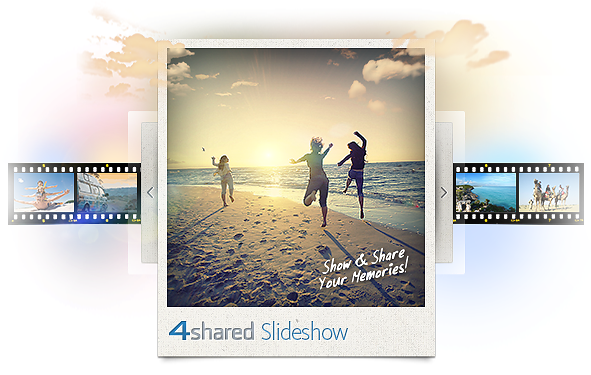 Astonishing news for all
4shared
fans! Get ready to meet the upcoming updates on
4shared
. From now on use your
4shared
account to organize slideshow evenings for friends! No need to save all your folders with high-quality photos on your USB-drive, or send e-mails to yourself just to show some interesting stuff at your friends' place. Just upload them to your
4shared
on web and show what you want as a presentation wherever you are: at home, in a pub or at work. And that's not it! Check out more updates in this post.
Let's take a look how it works! Imagine that you're having a trip to Africa. Then you come back home with dozens of impressive photos and want to show them to your friends. Do you think it's a nice idea to send them numerous folders with photos of you and maybe some monkey? We've got a better idea! Invite your friends at your place, cook something unusual (but exotic enough), and organize a slide show with a specific music on the background. 4shared will help you to make this evening very special!
4shared Slideshow
Upload all your folders with images from the trip to your 4shared account. Now, when you are done, go to your 4shared account on web and open the folder with photos.
1. Click on the Eye button on a photo to preview a file: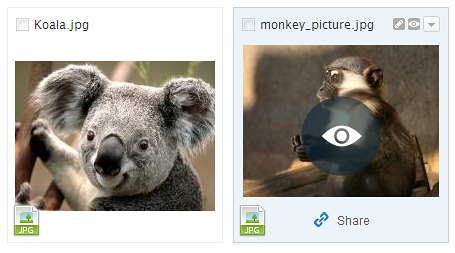 2. Click Play on the Slideshow button at the bottom left corner to start the slideshow.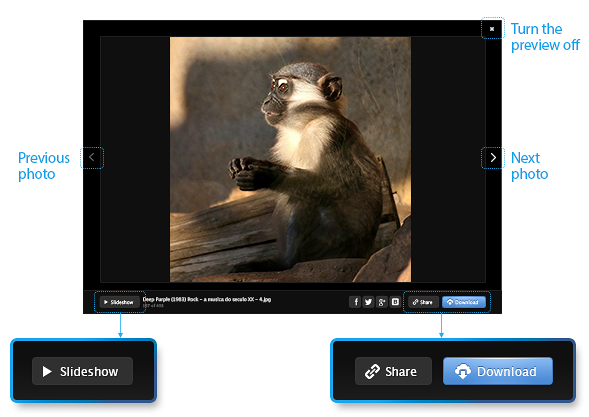 &#10004 As you can see 4shared team designed a great new interface, which is easy-to-use. If you want to stop a slide show, just click Pause on the Slideshow button.
&#10004 You may stop the slide show and manually turn the pages. Just click on the right or left arrows to see previous or next image.
&#10004 Share the photo with friends immediately. All you need to do is to click Share button at the bottom of the preview page and choose the way of sharing.
&#10004 Download a photo you are watching at the moment. Click Download button at the bottom of the preview page.
Isn't it awesome? Now let's have a look how to view the properties of files.
Properties of files
To make your slideshow party even more enjoyable, turn on your favorite tracks on 4shared. You can check the properties of the audio files in details. Click on the arrow on the file you want to listen to and go to Properties: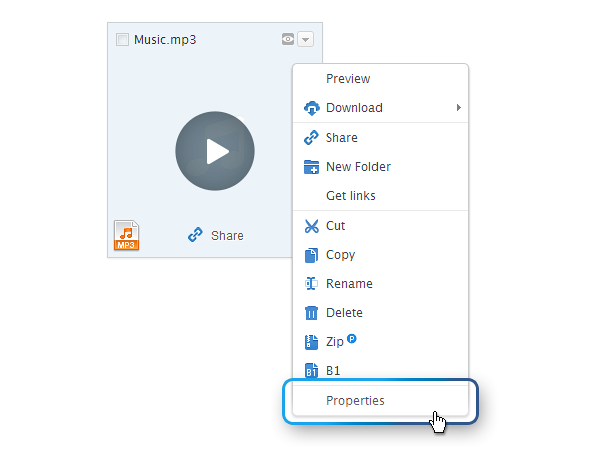 Here we are, now you can check all the details of your file.
&#10004 Click on Update button to update your file. If the new file differs from the old one, you'll get the notification that the names of files differ: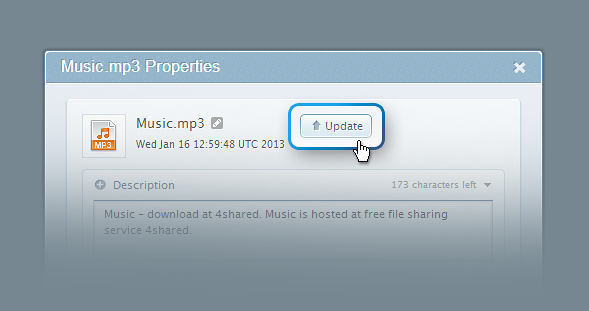 &#10004 Watch the description of your audio file and add the necessary information if you want: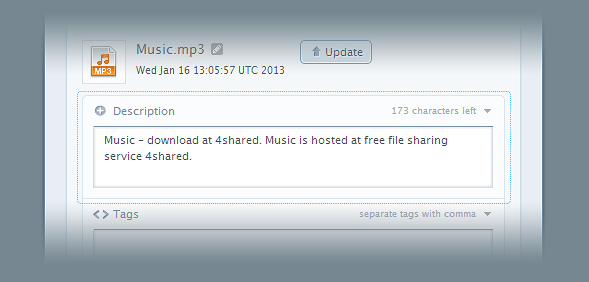 &#10004 Check the audio info. You can view all the details you need.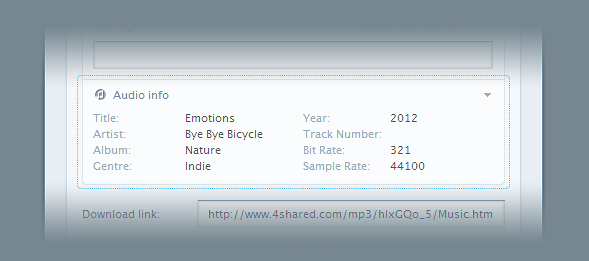 &#10004 Get direct and download links to the file, check the localization and size. Here you can also check how many times this file was downloaded and the exact date of the last download: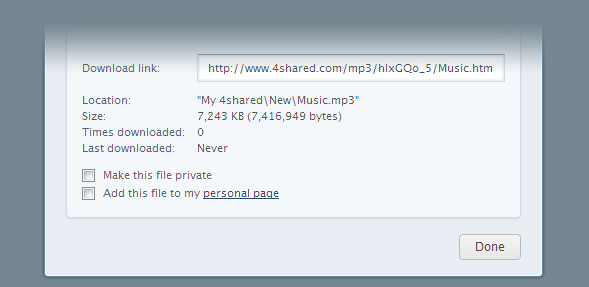 &#10004 Click Make this file private so no one can see it on 4shared, except you.
&#10004 But if you like, you may add it to your personal page, so everyone on 4shared can get access to it.
&#10004 Don't forget to click Save to save the changes you've made.

Tip: You can check your profile page if you go to Settings and click on Profile. Here you can change your profile picture, fill in the info about yourself, and change the profile settings. Also, here you can view your profile page.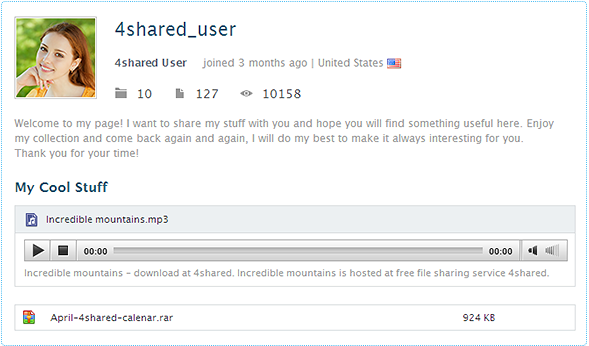 You can edit and check the properties of any files, not only audio files, you host on 4shared, as we showed in the example. You can check the properties of each file you upload to your 4shared in a new easy-to-use interface.
There's also news for US users only! 4shared cooperates with Amazon to prevent the copyright abuse. In case your audio file is banned, you'll be redirected to Amazon page. Here you'll have the ability to listen to the file and buy it.

Share photos with your friends and show them slideshows. Enjoy new updates in your account right now. 4shared prepared even more updates for you and your friends in the nearest future! Stay tuned and follow our updates.
&nbsp
Like this post? Share it!