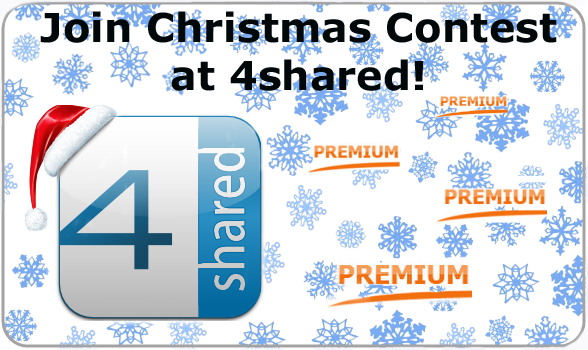 Holidays are getting closer, dear fans! Naturally, 4shared has prepared numerous exciting presents to congratulate you on upcoming Christmas and New Year! Interested? Well…)
Read more for details.
Since less, than 2 weeks are left till Christmas, we have decided it's just high time to present our devoted fans with pleasant surprises. In particular, 4shared has prepared an incredible Christmas contest for you, guys. Already intrigued, aren't you?
The essence of 4shared Christmas contest is simpler, than ever, though the prizes are worth taking part in it. In fact, you only need to write a short poem (at least a 4-line verse) about 4shared to participate and win 1-month 4shared Premium!
To take part in the contest:
1. Write at least a 4-line verse about 4shared.
2. Post it either at 4shared Official Fan Page or in comments to this very post till December, 24, 2011.
3. Get as many "Likes" for your poem, as you can (in Facebook), or impress our respectable jury (if you post your poem here in comments).
4. Win 1-month 4shared Premium!


Just to remind you…
4shared Premium will enable you to:
• increase your 4shared account storage space up to 100GB;
• resume any interrupted data transfers;
• eliminate any bandwidth limitations;
• archive your files online;
• enjoy no-ad file-sharing;
• a wide range of additional benefits.
Are you ready to test your poetic talent with 4shared? Take part in our Christmas contest now!
4shared: No Worse, than Santa's Presents!
&nbsp
Like this post? Share it!