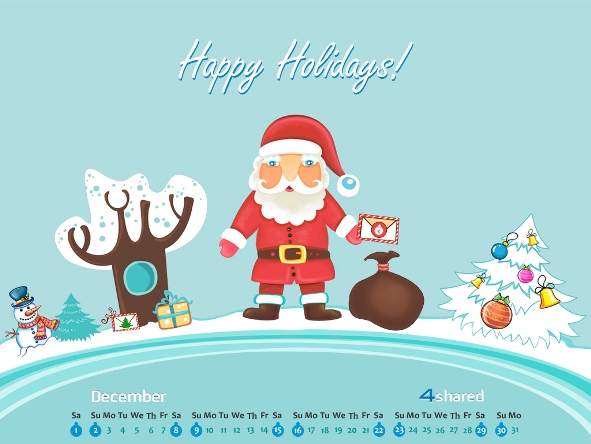 Ready for Christmas yet? Start preparing for holidays with our fresh and shiny 4shared December 2012 Calendar!
Read on for more details.
Winter's almost here, which means that we're soon going to celebrate perhaps the merriest holiday of the whole year – Christmas! No wonder, that we at 4shared have already prepared the first (and far not the last) thrilling present for our fans all over the world – that is the bright and glittering 4shared December 2012 Calendar.
This month's edition is, naturally, dedicated to the wondrous Christmas celebrations and the immense genuine excitement, fulfilling our souls every single year, as soon as December begins. The magic spirit, brought up by the holiday can't ever be compared to anything, likewise as the expectations for presents from Santa can't ever be beaten with any other possible presents.
As we 4shared firmly believe, December, 2012 won't certainly become an exception, as Santa is already harnessing his dear to be just right in time to bring the most desirable surprises to people in different countries.
Are you excited to get your computers' and devices' desktops ready for holidays yet? Don't hesitate and download 4shared December 2012 Calendar now and share your impressions about it with us.
4shared: Miracles are Just Beginning!
&nbsp
Like this post? Share it!