Great news! 4shared introduces the next participant of 4shared API Program – QikCam, a convenient widget in which the suppory of 4shared services has been intergrated.
Read more for details.
As you remember, three years ago we have introduced the concept of 4shared SOAP API (Application Programming Interface), which is the idea that everybody could use 4shared components. We have made it, so that all developers can work together to build new apps using 4shared SOAP API, offering a simple set of tools for developers around the world to be able to use and personalize experiences and build out the brand-new applications.
There are more than 100 elements that can be used for developing of your own apps for Mobile Phones (iPhone, Android, Symbian, Blackberry, Windows mobile), Windows, Mac, iPad, and Linux.
And now, shortly after the introducing of the first participant of 4shared API Program –SuperFiles , we are ready to present the next one, who is probably going to receive a $5,000 award!
Namely, the lucky developer is Web Factory, the author of a bright widget QikCam for Androidsmartphones, in which the support of 4shared services has been successfully integrated.
Essential features of QikCam by Web Factory:
1. Speed. It takes only a second or two to take a quick photo, or start recording a new video.play music and video files;
2. Two shooting modes available: photo and video shooting modes.
3. Flash Modes. You can shoot photos with the flash on, or off.
4.File-Sharing. Not only can you take quick photos and videos on your Android smartphone with QikCam, but also share the photos and videos with anyone, you want, like your relatives, friends and colleagues, via e-mail, Twitter, Facebook, etc.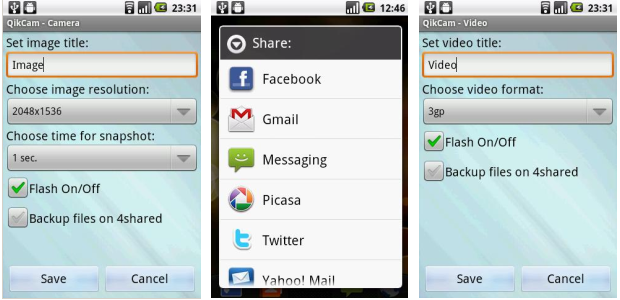 What can 4shared users enjoy now?
As long as you have got an Android smartphone, you can download the new release of QikCam with 4shared support and enjoy the extra-features, provided to users.
That is, in a matter of a few clicks, you can:
1. Connect to your 4shared account.
2. Have the backup of all your taken photos and videos directly at your account at 4shared.com, and have them accessible anytime, and anywhere you need them.
3. Upload any of your taken photos to 4shared; all you have to do is to choose the desirable mode in the app settings, so that the uploading process will start automatically.
4. QikCam+ 4shared is absolutely free, so you can enjoy all the services of the widget and spare money for other things in your life.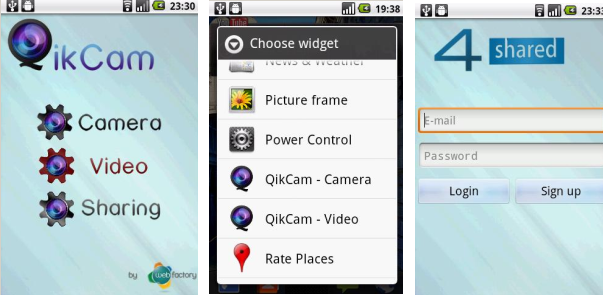 Haven't you tried the new QikCam with 4shared support yet? Do it now: download the app and share your impressions with us in comments!
Since 4shared API Program has started not long enough, there're many convenient and innovative apps with integrated 4shared functions, which are yet to be released. Stay tuned, guys!
Read this information to find out more on wining 5,000$ using 4shared API.
Things get better with 4shared!
&nbsp
Like this post? Share it!