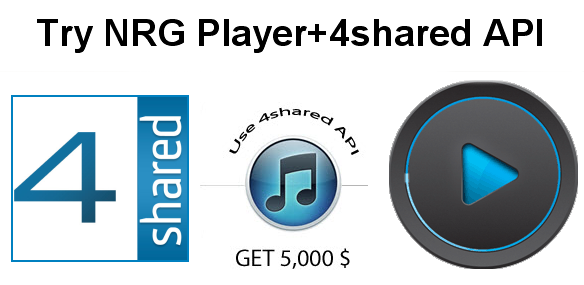 4shared is ready to reveal the name of another participant of 4shared API Program, NRG Mobile Software, the author of new NRG Player, which supports 4shared services
Read more for details.
The well-known 4shared API Developer Program has been initially established to enable all developers work together to build new apps using 4shared SOAP API, that is use and personalize experiences, and build out the brand-new applications.
In particular, there have been offered about 100 elements, which can be used for developing of your apps for Mobile Phones (iPhone, Android, Symbian, Blackberry, and Windows mobile), Windows, Mac, iPad, and Linux.
In addition to already introduced participants in 4shared API Program, namely QikCam+4shared, 4SPlayer+4shared, Contacts Backup over 4shared and SuperFiles+4shared, we are now presenting one more talented developer – NRG Mobile Software, who has succeeded in integrating 4shared functions into its app NRG Player!
NRG Player+4shared for Android plays mp3, ogg, m4a, 3gp, wav and other standard Android audio file types from your phone and 4shared.com. You can select songs from folders, albums, artists in a simple way.
You can rate your songs; use equalizer for mp3, edit id3 tags, use app widgets and lock screen widgets, load album arts from 4shared and many other things.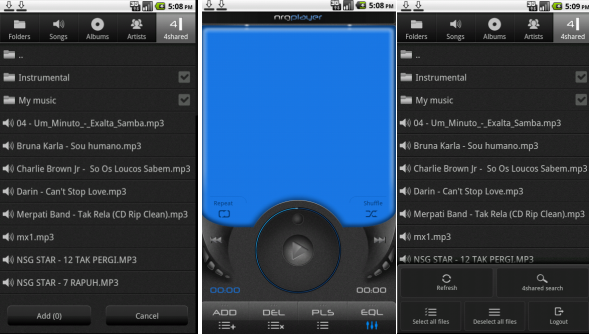 Moreover, the features of new NRG Player+4shared comprise:
1. Direct access to user's 4shared account.
2. An ability to stream music files/playlists from one's 4shared account with NRG Player+4shared.
3. The users' ability to search and stream music from 4shared with NRG Player+4shared.
4. An option to upload files and playlists, created in NRG Player+4shared to the user's 4shared account.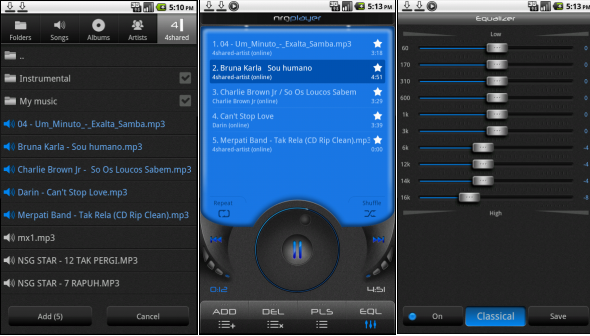 Haven't you tried the the new NRG Player+4shared yet? Do it: download it now and share your impressions with us in comments!
Since 4shared API Program was officially opened only 3 months ago, there're a great number of creative and innovative apps with 4shared API, which are yet to be publicly presented.
Read this information to find out more on wining 5,000$ using 4shared API.
You always get the best with 4shared!
&nbsp
Like this post? Share it!